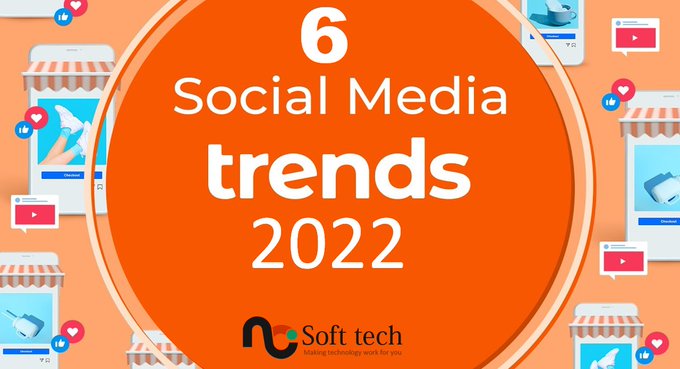 In today's world, most people spend a good part of their days on social media. These online platforms have become an integral part of people's lives and daily routines.
Given the importance of social media in consumers' lives, marketers and businesses flock to social platforms in the hope of connecting with their target customers. However, there is a content overload on social media, and the competition is very high. It can be challenging for you to stand out unless you have a clear strategy of social media marketing in India. So we are 6 of the most important social media trends you need to be aware of for 2022 and beyond.
Trend 1: Reels Contribute to Instagram Marketing Success
Head of Instagram, Adam Mosseri recently said that the platform is embracing a paradigm shift where users are asking for more entertaining video content. This means it's critical that businesses begin to embrace that shift as soon as possible to effectively market on the platform going into 2022. Video has become a core component of social media strategy of every efficient social media marketing agency in India. However, simply hitting the record button and throwing up a plain video is no longer enough for social media marketing in India. The videos uploaded must be creative, innovative and entertaining to stand out in today's digital marketing landscape.
While incorporating more video content into your social media marketing strategy, it's important to note that your audience's attention span has gotten shorter and shorter over the years. It's the need of the hour to churn out quick and new content, so your strategy needs to align with that by leveraging Instagram Reels and short entertaining videos.
Trend 2: Facebook Ads Performance Is More Effective
Social media experts have noticed that a lot of the on-platform Facebook ad experiences like lead generation ads, Messenger ads, etc are more effective than ever before. It seems that with the whole pixel debacle of 2021, Facebook has done some fancy footwork to make some of its easier to use products a lot more effective.
As we all know, 2022 is going to usher in a new era of even shorter attention spans. If you want your brand to win, think short. Make videos that are easy to consume, highly informative and as entertaining as possible. While some people may mock the rise of features like Reels and platforms like TikTok, any successful social media marketing agency in India ensures that short-form, educational, entertaining videos are here to stay.
If certain organic reels or videos perform well and generate a lot of engagement, you can turn them into an ad as they work exceptionally well. Pair your short-form videos with good old-fashioned storytelling and it's a match made in heaven. By doing this, your account will reach new people and build up your warm audiences, which can then be retargeted or leveraged for lookalike audiences.
Trend 3: Social Commerce Will Continue to Expand
A few brands have long used social media platforms like Instagram, Pinterest, and Facebook to sell their products. However, gone are the days when these platforms were used only by innovative and renowned brands and businesses. In 2022, the ability to buy products directly via social media will become a norm. According to a study by eMarketer, the social commerce industry will be worth $80 billion by 2025.
From shoppable posts to Instagram Storefronts, social networks are continuously evolving to become retail platforms. Brands and marketers will continue to leverage this trend of social media marketing in India and incorporate social commerce in their sales strategies in 2022. Hence, to be successful in the digital space, every brand and business should aim to create a frictionless shopping experience for the audience on social media.
Trend 4: Video Content Will Continue to Dominate
Video content is and will always remain one of the most engaging forms of content. According to a study by Cisco, 82% of all online content will be video content by 2022. This clearly emphasizes how important it is to start utilizing video content to stay relevant in the social media domain.
In the near future, videos will dominate social media and anyone who doesn't realize this will have a tough time. However, it's important to keep in mind that long-form content is no longer the way to go. The success of Stories, Reels, and TikTok make us realise that engaging short-form videos are now the preferred choice of consumers.
Trend 5: Social Media Communities Will Continue to Increase
While this is not something new, it is definitely something that is becoming more popular now than ever before. Social media communities are basically social groups created by brands to provide a networking platform for their customers. These are usually private groups that like-minded people can join to talk about their shared interests. One such brilliant example is Facebook Groups which many brands utilize to bring all of their existing and prospective customers together and engage with them in a meaningful way.
Brands can also engage in Social media marketing in India by launching new products, seeking customer feedback and gaining valuable customer insights through these groups. Creating attractive and eye-catching content engages the audience in a group that helps to strengthen online communities in 2022.
Trend 6: TikTok Will Dominate Social Media Space
Though Instagram is still a firm favourite, TikTok is moving up in the ranks. Plus, considering that short-form video content will become more popular, TikTok is the ideal platform to use in 2022. During the past two years, TikTok has also launched a number of useful tools, like ads and business profiles, aimed specifically at businesses. So, it's no longer just a platform where young creators can show off their dance moves. All in all, it's set to become one of the main platforms that brands can use to reach millennials and Gen Z.
NCSofttech is a social media marketing agency in India who believes being updated with trends can empower people, businesses, society and world at large. We are a bunch of energetic young professionals united by creativity and a passion for digital. Our services of social media marketing in India expand across the country and beyond her borders. NCSofttech is an all-in-one digital agency that can deliver a complete suite of digital marketing services. Our unique approach, sense of design and content gravity allow us to seamlessly leap from client to client and project to project.